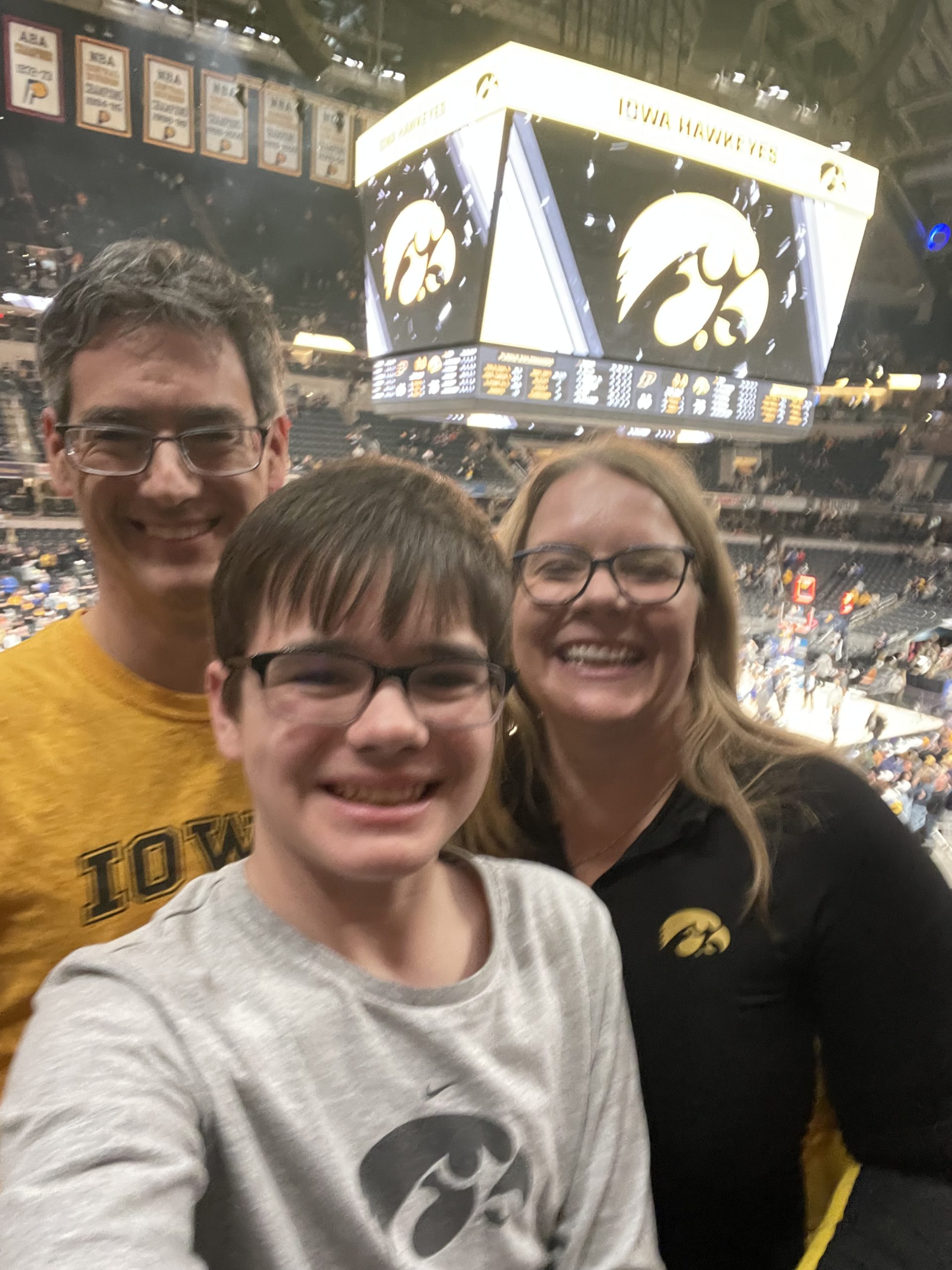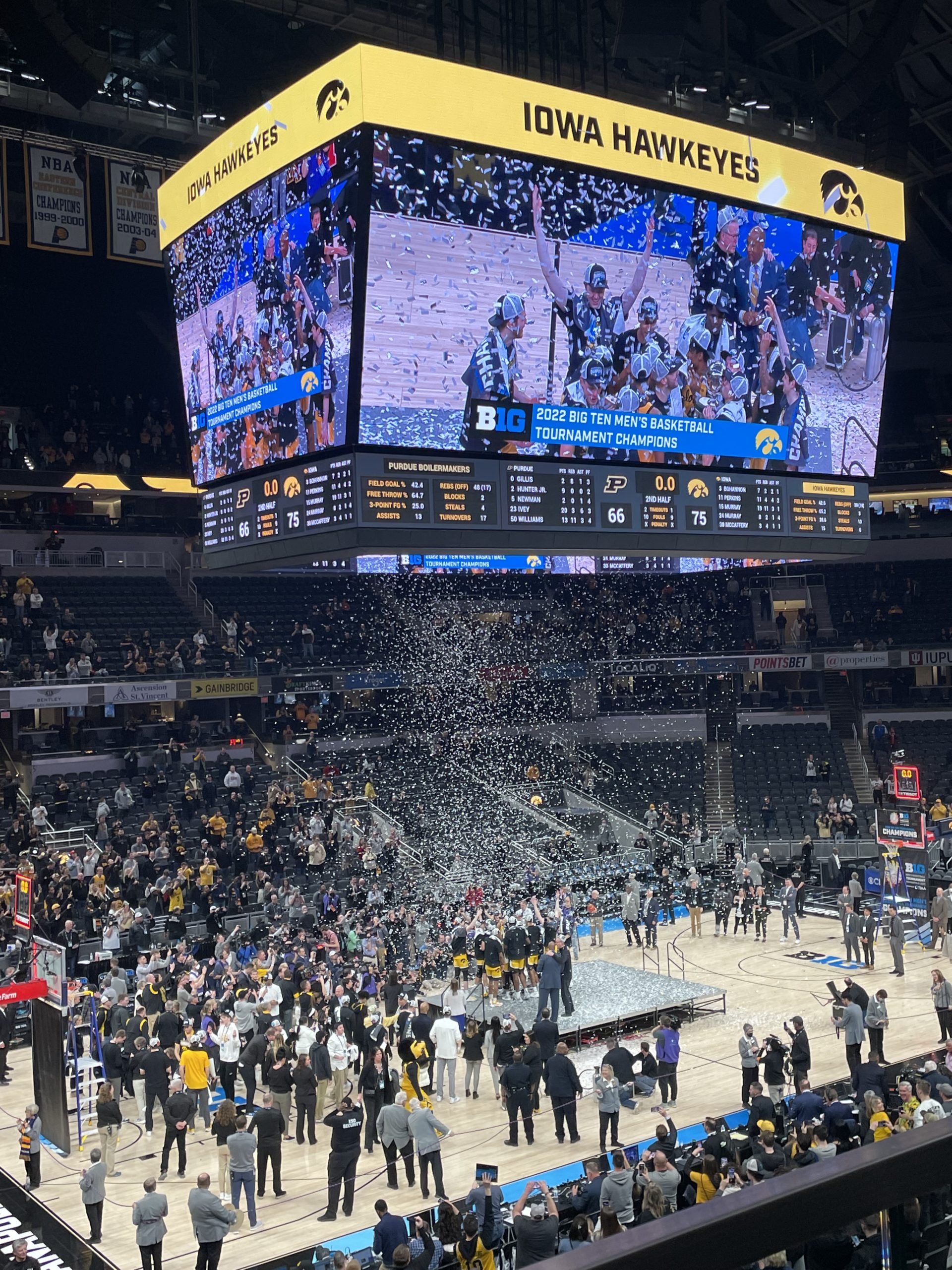 The third week of April in 2004  was a big one at The University of Iowa Hospital. A brand new Labor and Delivery unit was opening. I remember finding out that Andy's due date was April 21st and hoping that we would make it to that date so we could use the brand new facilities. I had completed my pediatrics residency already so was no longer working at the hospital, but Eric was finishing up his anesthesiology training so we knew many people there well.
In perhaps an answer to prayer, I did not go into labor until April 21st. Eric and I arrived at the brand new unit in the middle of the night and were put in a triage room. After it was determined that I would be giving birth that day, they actually held me in the triage room for an extra hour so I could get the biggest, nicest labor room on the floor. Mary Sue Coleman, then president of The University of Iowa, was getting a tour and they wanted her to see the 'best' room. After the tour, I labored all day in that room, and finally, not-so-little Andy was born. I remember Eric picking him up and holding him up to that big bank of windows overlooking Kinnick Stadium, where the Iowa Hawkeyes play football. Eric said to him, "Andy, you are going to be a Hawkeye for life."
Although six short weeks later, we moved to Michigan, a big part of Andy did remain a Hawkeye for life. His favorite Teddy bear wore a Hawkeye shirt and was named Herky after the Hawkeye mascot. Moving to Michigan meant that Andy became a tremendous Michigan State Spartans fan as well. Eric had grown up an MSU fan his whole life and the boys loved it. We quickly became season ticket holders for Michigan State basketball. One of our favorite family activities was going to basketball games together. We all loved it. 
The one game that would really bother Andy, however, was the games where Iowa came to Michigan State to play the Spartans. He would feel so torn. He loved both the Spartans and the Hawkeyes so much! I remember one game where he wore a Hawkeye shirt and Spartan pants because it was such a struggle for him. You see, the family would be divided in those games. I would cheer for my Hawkeyes, while Eric would cheer for the Spartans. The kids would feel torn, but would usually go Spartan green. Andy was always the one who felt the most distress over the whole situation.
A few weeks before Andy died, we got to pick our new seats for the upcoming 2018-2019 basketball season. Andy actually sat at the computer with me and helped me pick out those seats, but he never got to sit in them. We still bought the fifth seat, however, because I couldn't handle the thought of having a stranger sit in his seat. Going to games was such a struggle that year. We would sometimes have Peter or Katie take a friend, but at other times, that seat would stay empty. Despite the sadness, we continued to go, and have moments of happiness watching the Spartans win.
At the end of the season, Eric decided that we should start a new tradition in memory of Andy. We would start going to every Big Ten Basketball Tournament. This way we could cheer for both the Spartans and the Hawkeyes just as Andy loved to do. In 2019, we did not go to the Wednesday night games, but Peter and I took the morning train to Chicago to get to the Thursday afternoon session. Then, Eric and Katie came after school Thursday and joined us for the evening games. Then we went to all of the Friday through Sunday games. Michigan State won the whole tournament! We missed Andy horribly, but knew that it was great to do something that he would have loved so much. A few weeks later, we even went to the NCAA tournament and saw Michigan State beat Duke to go to the Final Four. Andy would have been on Cloud 9!
In 2020, we decided to go to all of the games including Wednesday night even though our teams did not have to play that night. The Spartans were really good again and we thought there was a decent chance they could win it all. We pulled both kids out of school an extra day. It was Katie's senior year so we thought it was our last chance to go with her. The games were in Indianapolis so we started on the 4 1/2 hour drive. We were about 20 minutes from the stadium when they announced there would be no fans starting Thursday due to COVID. We were so disappointed, but went to the Wednesday night games thinking we would at least be able to watch the rest on TV at the hotel. Literally 30 minutes before tipoff, they called off the rest of the tournament. It was honestly crushing especially since the Andy Larson Memorial concert got canceled that week as well. We stayed in the hotel an extra night, but then went home. Little did we know that due to the pandemic, Katie and Peter would not go back to school at all that spring.
Then the 2020-2021 basketball season arrived and was held with no fans. On the one hand, I did not have the pain of going to the games and seeing that empty seat, but on the other hand those games had had given us bits of joy during a time of such sadness. It was so hard to not have that in our lives. I remember thinking how devastated Andy would have been had he been alive. Attending Michigan State basketball games was honestly one of Andy's greatest joys in life.
So when this year came, we finally got to fulfill our little promise to go to the tournament every year. Since Katie is in college now, it was just Peter, Eric and I, but we made that trip to Indianapolis. If you follow me personally on Facebook, you know we went to every single game – all 13 of them. If you looked at the pictures that I posted carefully, you would see that Thursday, Friday and Saturday, we even changed clothes between games wearing Hawkeye Black and Gold first and then Spartan Green. Fortunately, they each won Thursday and Friday to make the semi-finals. The Hawkeyes won the first Saturday game and then it was time for the Spartans to play. Family and friends started worrying about what would happen in our family if Michigan State won and it would be the Hawkeyes versus the Spartans on Sunday.
Spartan fans will disagree with me (and I include Eric in that category), but it was probably for the best that Michigan State lost Saturday afternoon. This way we could cheer for the Hawkeyes together as a family against an entire arena of Purdue fans. Andy would have absolutely loved it, and I am certain, if there is a way to watch basketball in heaven, Andy was watching. If there was a way that he pulled some strings with God on the Hawkeyes behalf, I'm sure he did that as well. (Perhaps Andy had a hand in the Jordan Bohannon last second 3 on Saturday!) I can only imagine how big his smile was (and probably still is), after seeing the Iowa Hawkeyes win the Big Ten Tournament Championship. He certainly was a Hawkeye for life.
Moving forward, I am sure that we will see teams win the Big Ten Tournament other than the Spartans or the Hawkeyes, but if Andy gets his way, hopefully, those two teams will win more than they lose.